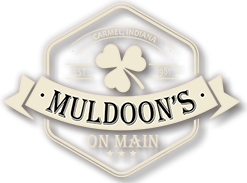 A genuinely warm welcome and first rate friendly service
at your favorite award winning neighborhood spot.
The staff members at Muldoon's attribute their success to the craic, a term that they say describes the atmosphere of fun and fellowship often found in a true Irish pub. That laid-back vibe has paid off: Muldoon's has been crowned Best Neighborhood Bar by City Voter for 5 years running. Washed down with an extensive beer selection, the hearty food menu stocks such Irish classics as shepherd's pie, Irish beef-and-potato stew with Guinness broth, and hand-breaded fried-cod fish 'n' chips. Chefs also prepare more local favorites, such as a classic Midwest breaded tenderloin that has been voted the best in the state many times over. Meanwhile, guests can cozy up by the fireplace to listen to live music or admire the antique cash register at the bar and in the summer can enjoy dining on the patio.